3D-Micromac introduces microMARK RXe BLUE for laser engraving of ophthalmic glasses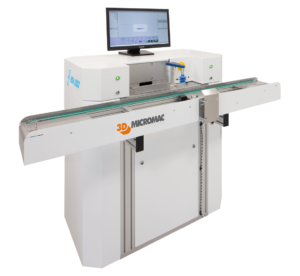 Laser engraving system utilizes a solid-state laser source that does not need gas for operation, setting new standards in processing eyeglasses and contact lenses

Chemnitz, Germany, June 9, 2023—3D-Micromac AG, the industry leader in laser micromachining and ophthalmic engraving solutions, today introduced the new microMARK RXe BLUE, a laser solution for marking spectacle and contact lenses.
3D-Micromac's microMARK RXe BLUE offers excellent marking quality for all types of blocked plastic lenses, including CR39. The system is equipped with an industry-proven solid-state laser source, which guarantees a significantly higher number of emitted laser pulses compared with similar classes of laser sources. No gas is required to operate the laser system. As a result, customers benefit from low investment and operating costs.
Parallel to the launch of the new microMARK RXe BLUE, 3D-Micromac announces an upgrade package for all microMARK excimer laser systems, which includes upgrading the system with an industry-proven diode-pumped solid-state (DPSS) laser source.
Read the full press release on: www.3d-micromac.com